Window Coverings - Before you Buy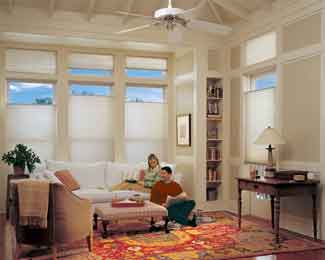 Hunter Douglas
Style: Applause honeycomb shades with Standard Cordlock
Design considerations
The two most important things to consider when helping a buyer select window coverings are function and design.
The main point to remember is that a well-designed window covering suits not only the window, but also harmonizes with the room. The window treatments should be to scale with the room itself and with its furnishings.
Think about what other interior selections you need to consider when choosing colors, styles and textures.
Ask yourself what feeling or mood you want to create in the rooms. The mood of a room can be soft and elegant, casual and comfortable, classic and traditional or clean and contemporary. The activities that will take place in the room will usually determine the mood or feeling you want the room to evoke.
Also consider the actual architectural style of the window itself.
When selecting colors for windows think about whateffect you want to create. If you want the window to add drama and be a focal point, use contrasting colors to the wall color. On the other hand, if you want to make the room look larger, blend or coordinate the window and wall colors.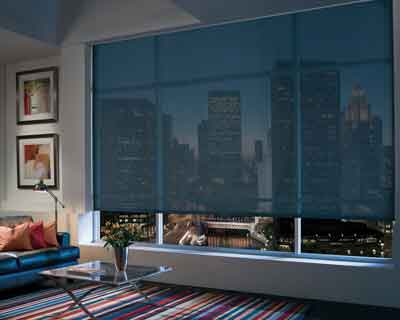 Hunter Douglas
Style: Designer Screen Roller Shades with Continuous Cord Loop
If you are comfortable with color, use it! There are a multitude of color choices. Consider some fun colors for children's bedrooms or play rooms.
Neutral colors provide longevity and flexibility. These colors, whether black, white, gray, brown, beige, or cream create the perfect rooms in which to live and relax. Because window coverings become permanent fixtures in a home, it is important to select a color that will be easy to live with for a long time or a color that will appeal to future homeowners if selling the home is a possibility in the future. Neutral colors are timeless and allow for the other, more easily replaceable, design elements to change as needed, such as pillows on a sofa, area rugs, paint and accessories.
Neutral does not have to mean boring! A coordinated mix of neutrals with different textures can make a room very interesting. When considering neutral colors for window coverings remember you are not limited to the classic neutral palette of browns, whites, blacks and grays. Today, many pastels are considered "colorful neutrals". Colors such as shell pink, soft peach or a tranquil sea glass green are sophisticated, soft and comfortable, making them a refreshing addition to any room.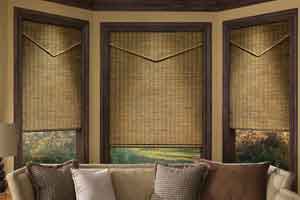 Hunter Douglas - Provenance
Style: Woven Woods
The color of window coverings not only plays a role on the interior of a home, but also on the exterior. You want to achieve a consistent look. Be sure to examine the backside of the window coverings so you will know how they look on the outside of your home. Some window coverings offer white backings but others do not. Plus, some communities have covenants against visible window coverings in non-neutral colors.
Think of fabrics and surfaces that have a lot of texture, such as berber, stone, brick, corduroy, basketry or pottery. This feeling is more casual. If you want to dress up a room, introduce smooth, sleek or shiny. If you want a more casual atmosphere, introduce texture. Many people who like the look of softer draperies may not have considered utilizing both hard window coverings and draperies. Blinds can give you optimum light control that you cannot achieve with draperies. You might want to think about using hard window coverings to retain the window's function and complement it with a soft treatment for design.
There are many different ways to incorporate hard and soft window coverings to create beautiful windows. If you have resale in mind, remember that neutral colored blinds or shades are their best bet. If you have invested in draperies you can take the draperies with you and leave the blinds for the new buyer.