Window Product Information - Shades
Hunter Douglas
&nbsp Style: Designer Roller Shades
Shades
There are four main types of shades used in the industry today: honeycomb shades, woven wood shades, and traditional window shade.
We serve South Bay and many Southern California Cities.
There are unlimited choices of fabrics, textures and opacity. All offer varying degrees of light control and privacy.
With the vast array of fabrics and materials to choose from, there is a window shade to suit almost any room in the home.
The privacy and light control needs for the room will dictate which of the many fabrics you can choose from. The more sheer fabric can filter light and the opaque can darken the room.
Fabric texture options with window shades can accommodate formal looks to casual looks and anything in between, making these products popular for any room and its decor.
These products can be installed with an inside or outside mount depending on the window molding and sill construction.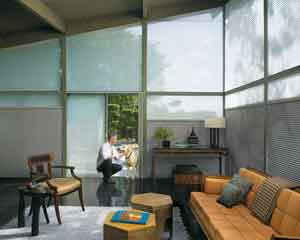 Hunter Douglas
&nbsp Style: Duette Architella honeycomb shades
Honeycomb Shades
The honeycomb construction of these soft, yet durable shades—available in single, double and triple honeycombs—make them highly energy efficient.
Choose from a wide variety of sheer, semi-sheer, semi-opaque and opaque fabrics, as well as hundreds of colors.
Honeycomb shades get the name "honeycomb" due to their construction, which it designed like a honeycomb in a beehive. They are made of soft textured, woven and non-woven fabrics with crisp, even pleats. Many shades are available in single, double and triple honeycomb designs, a variety of pleat sizes which provide varying degrees of light control and privacy.
If energy efficiency is a concern, honeycomb shades should be considered. The honeycomb cell construction traps the air inside for maximum energy savings.
They can fit almost any window, including specialty shapes and stack neatly with minimal space at the top of the window when raised.
Roman Shades
Most roman shades are simple, flat fabric shades that draw up in neat, even folds, giving them a tailored look.
Some roman shades maintain their contoured folds while in the down position.
They are available in various types of fabrics ranging from smooth semi-sheer polyesters to highly textured semi-opaque polyester/rayon blends and also in room darkening fabrics.
Sleek and sophisticated, Modern Roman Shades consistently present a clean, neat appearance.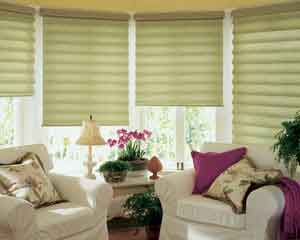 Hunter Douglas
&nbsp Vignette Modern Roman Shades
Woven Wood Shades
Woven wood shades are made up of bamboo, reeds, grasses and jutes adding warmth and dimension to a room.
These shades hang flat in the lowered position and then have overlapped folds when raised. They are uniquely textured, adding casual good looks to any room.
Woven wood shades bring nature inside the home with traditional styling.
These shades are well suited in a casual setting, like a family room or den. In a contemporary or tropical influenced design, these shades work well in any room.
These shades are made of all natural materials. Woven wood shades may have knots, slight surface cracks, variations in paint and stain, grain and pattern irregularities and slight distortions. These are considered normal and only enhance the beauty of the natural product.
Window Shades
A vast improvement to the traditional roller shade, window shades come in hundreds of fabrics, colors and styles and you can order select fabrics separately for designing room accessories.
The fabric on these shades can be made from durable polyester to high tech dyed screened fabrics with an array of opacity options.