Area Rug Styles
Thousands of area rug style choices means there is a rug for everyone.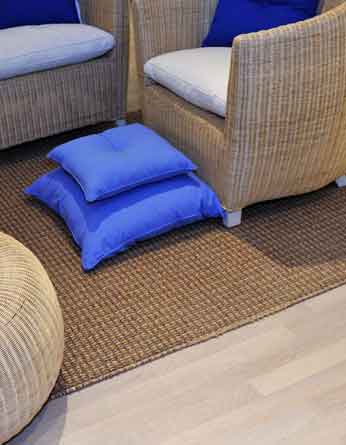 Somewhere out there, hopefully at our store, your perfect area rug or rugs awaits you. The challenge is finding it, or them, because the spectrum of area rug styles is wide, worldly and wonderful.
Styles range from Turkish, Oriental and Natural to more modern versions that are geometric, traditional, transitional, contemporary, country and Native American.
Patterns proliferate: florals, solids, stripes, plaids, even seasonal/holiday.
From the simplest cotton throw rug to a majestic, intricately crafted Persian rug -- your choices are virtually endless.
Which is exactly why our experts have put this section together. You need to know the basics about area rugs, the distinguishing characteristics of certain types, the typical colors that earmark the classics, and the material that makes one rug longer lasting than another.
Here we'll educate you on the ancient and modern, the colorful and complex world of the area rug with the goal of making you a more knowledgeable flooring shopper.
To understand the universe of area rugs, draw an imaginary line.
On one side, area rugs can be antique or original rugs that are hand-knotted or hand-tufted, are high in value and price, and become collectables.
Or, on the other side, area rugs can be modern, manufactured rugs that replicate some of the ancient patterns, designs and colors.
Some of these rugs are made with different materials other than wool and silk such as nylon, polyester and olefin.
In this next section, we'll explain to you the most important styles of rugs that have existed or still do exist in various parts of the world.
Many styles are made in their place of origin as well as in other countries or areas. Come walk with us through this style promenade.
Persian: variety abounds.
When you think of Persian rugs, you usually think of intricate curvilinear designs, however, Persian styles are the most diverse styles worldwide.
There are over fifty different Persian styles woven in Iran and other countries such as India, Pakistan, China, and some European countries.
However, a true Persian Rug is one that is hand knotted in Iran, formerly called Persia, and features a border to emphasize the main pattern.
Several other narrower borders may also be part of the design and this border motif is the signature of all Persian rugs. Don't be fooled by borderless imitations.
Dating back to the fifth century BC, Persian rugs are considered an investment and keepsake sometimes passed down through generations.
Perhaps your generation could begin this heritage.
Oriental: always traditional, never industrial.
Recognized for centuries for their warmth and intricate designs, Oriental area rugs are handmade rather than mass produced and are known to be extremely durable and long lasting.
They are often made from natural fibers such as wool, silk or cotton and become works of art you will cherish for years to come.
You will not find antique oriental rugs made of synthetic blends.
Each one is unique, and playful -- the pattern changes direction without warning.
Your Oriental rug will come from India, Western China, Central Asia, Iran, the Caucasus or Turkey.
Chinese: nothing is lost in translation.
Unlike most oriental rugs, Chinese designs are very literal rather than decorative; most motifs have very exact meanings.
Also, unlike most Oriental rugs, the motifs on Chinese rugs do not unite in order to create one design; they stand alone. And will standout in your home.
Traditional Chinese rugs and carpets are immediately recognizable by their simple, classic motifs and unusual colors.
These rugs often feature a center, circular medallion, familiar objects seen in nature such as animals, flowers, and clouds, stylized Chinese ideographs and even entire scenes.
They're usually framed with a simple, wide border and many display contrasting colors that meet to provide interest and texture to the simple patterns.
These rugs are usually of high quality and extremely durable.
Turkoman: all about flower power.
Turkoman rugs are produced by nomadic weavers of Turkmenistan, Uzbekistan, Afghanistan and the province of Khorassan in northeast Iran.
Turkoman rugs are easily distinguished by their three characteristics of a dominant red to red-brown background color, geometric pattern, and a unique octagonal motif known as gul, which has several versions.
Gul is the Persian name for flower. If you love flowers this is your rug.
The layout is generally all-over and guls are repeated in rows with usually smaller guls of similar, but not exact, geometric designs (minor guls) in between the rows of major guls.
White, beige, black and blue are used to create color contrast in the motifs and the border of the rug.
Caucasian: for the geometric minded.
Caucasian rugs are woven by tribal weavers of the region south of Russia, near the Caucasus Mountains, between the Black and Caspian Seas.
Caucasian rugs, even though made by different weaving groups, still have very common characteristics.
The patterns are very geometric. The perfect rug if you think spatially.
The designs tend to be stripes, crosses, squares, diamonds, hexagons, triangles, botehs, 'S' shapes (derived from old dragon designs), some very geometric animal figures, such as crab and tarantula, and sometimes even geometric human figures.
One common characteristic is the positioning of similar shapes in different sizes next to one another.
Another is their colorful and bright palette.
Colors of blue, red, purple, yellow, green, navy, black and beige can all be combined in one rug.
Tibetan: mountains of color, motif and background.
The distinguishing characteristics of Tibetan rugs are their vivid colors, huge and few motifs, and relatively plain and dominant backgrounds.
The motifs are woven in red, orange, pink, yellow, beige, blue, green and white.
The background colors are usually blue, black, red, orange, and less frequently, yellow or ivory.
Their designs are strongly influenced by Chinese and East Turkestan styles and can either be geometric or curvilinear. Take your choice.
The different types of Tibetan rugs include the medallions, the flower and rosettes, the mythological animal and birds, the geometrical designs, and the rugs used in monasteries for ceremonial purposes.
Tibetan rugs are known for their wonderful depth and richness achieved through subtle variation of color and texture.
These rugs are woven exclusively with Nepalese wool, which is characteristically flexible, strong, lustrous and springy.
The bold eclectic patterns and coloration heightened by a rich texture reveal a primitive sophistication unique to these rugs.
Can you picture one of these rare beauties in your home?
Indian: big on floral, small on motif.
Indian designs were strongly influenced by those of Iran, mainly by the curvilinear styles.
Popular designs of the 18th and 19th century, which Indo-mir is still a remaining example of, were mainly in the all-over layout with very small floral motifs such as plants, palmettes, rosettes and leaves.
Often the same motif was repeated through the entire rug, and borders were very similar to the motifs in the field.
There was not much color contrast in these rugs; the colors were mostly well coordinated to suit the Western taste.
Brownish red was the dominant color. In addition to this color, light and dark green and burnt orange were also popular.
Native American: Navajo is the chief example.
Native American weaving is mainly associated with Navajo wool blankets.
These blankets are mostly flat weaves and date back to the late 18th century.
Today Navajo fabrics are woven on reservations in northern Arizona.
Original styles consisted of stripes and simple geometric shapes.
Navajo weaving could be divided into the four types: the Chief blankets, Serape blankets, Eye Dazzler weavings, and fabrics after 1890.
They all had horizontal stripes with wide stripes housing minor stripes at each end of the blanket and a similar wide strip in the center.
These wide end and center stripes were colored in red and brown; sometimes blue was added.
White and brown stripes were woven between the wide center and end major stripes.
East Turkestan: hard to find, easy to love.
Prior to the Chinese occupation in 1878, the area in western China above Tibet was called East Turkestan.
Even though the area itself is no longer called that, the rugs of this area are still labeled as East Turkestan rugs.
They may also be marketed under "Samarkand" because East Turkestan rugs used to be traded in Samarkand.
The main East Turkestan sub-styles include Kashgar, Yarkand and Khotan.
East Turkestan rugs have always been rare, and they are still being woven on a small scale.
The layout of East Turkestan rugs can be either medallion or all-over.
Their pattern is mainly geometric and tends to be long and narrow.
A very common design is the pomegranate and vase, which is a symbol of fertility.
The vase symbolizes Mother Earth and the pomegranate is the fruit growing from Mother Earth.
Kilims: one of a kind for many uses.
Kilim rugs are flatwoven textiles made by nomadic peoples in Turkey, Iran, Iraq, Russia, China, Pakistan, India and Morocco.
Turkish Kilims feature Mediterranean colors of gold orange and turquoise.
Iranian Kilims are grounded in burgundy, rust, heavy blues, and heavy greens.
Kurdish Kilims are brighter and sometimes mixed with embroidery.
These textiles are used as rugs to cover doors and windows, for their dwellings, and as prayer rugs.
The Kilim is a major part of a bride's dowry. The females weave each rug; each piece will contain symbols of the family traditions and tribal identity.
No two hand-woven Kilim rugs are exactly the same in color and size, which give the rugs a unique appeal.
If you seek one-of-a-kind items for your home, a Kilims rug is made for you.
Finally, 3 more categories of rugs that roll out beauty and character.
1. Braided.
Practical and beautiful, these rugs are constructed traditionally from wool but can be made from nylon, chenille and olefin or polyesters.
Braided rugs can be crafted into any size or shape and are very durable, hard wearing and easy to care for. Features everyone appreciates.
These are rugs made from heavy strips of yarn or fabric that has been braided into thick ropes and are then sewn side-to-side in spirals, ovals, round and oblongs.
2. Flokati.
Often referred to as sheep skin rugs, this textile is made of 100% hand-woven New Zealand wool and originated in Greece 1500 years ago.
It's a "shaggy" looking rug that is very inviting and cozy on your feet.
Flokati are contemporary rug styles with long pile and natural colors.
3. Naturals.
These are area rugs made from natural materials and include Sisal, Jute, Seagrass and Bamboo.
Sisal.
This is a strong and versatile natural material. Sisal rug fibers come from the leaves of the Agave Sisalana plant that is grown as a renewable resource. And who isn't for that?
The useable leaves of the plant can produce approximately a thousand fibers.
These fibers range in color from straw yellow to a creamy white and are spun into yarn and then woven into carpet.
Although Sisal by itself can be a bit tough on the feet, it can be combined with wool or nylon for a softer feel.
Sisal area rugs are durable, provide sound absorption, are anti-static, naturally insulating and fire resistant.
They absorb moisture therefore they are not recommended for use outdoors or in areas of water inside the home such as your bathroom.
Jute.
These rugs are woven with loop or flat construction, and have become popular for use throughout the home.
Jute fibers are stripped from their stalks and can be spun into yarn or rope and woven.
Jute yarns are strong and often used as warps in knotted rugs.
Seagrass.
A product of the paddy fields of China and India, this is a popular choice among designers for its natural beauty and strength.
Seagrass area rugs are durable, stain resistant and come in warm beige tones with undertones of green.
Different patterns are available such as Herringbone and Basketweave making these rugs the perfect accent to any room in your home.
Bamboo.
This is one of the fastest growing plants on the planet. They are plentiful in supply and make strong and beautiful area rugs.
Bamboo rugs are woven from natural bamboo fibers and feature natural variations in color.
Bamboo rugs offer texture and style to your room's décor in a simple and understated way.
Somewhere in your home there's an area made for an area rug.
Now that you know more about this classic and beautiful decorating element, let your imagination run free with a floor covering for that space. With so many area rug choices there's bound to be one that's perfect for your home.